Book an inspiring lecture in sustainable consumption, learn how to become a circulent or order a workshop in circular economy. An important task for us is to come to schools, places of work and other situations to teach about consumption's terms and effects. 
Working without pointing fingers and with inspiration as our focus is key, because research shows that it is easier to take in information that way. That is more important now than ever before. 
We offer eye opening lectures that are packed with content, and workshops that we tailor after your needs. We are experts in sustainable and circular consumption, especially from a circulent point of view. They all include concrete advice and facts, which is why you should book a lecture in sustainable consumption with us today. 
Our lectures
You can choose a general inspirational lecture or a specific theme within sustainable consumption. We can also offer a tailored course arrangement for you, or on an assignment basis help you with for example: communication, campaigns or something else. A tip is to become a company member with us. It includes among other things a lecture and an expert consultation.
Choose between
The ecological footprint – Most popular!
Trends in circular economy – Sought after!
How do I become a circulent? New!
Sustainable consumption – how do you do that?
Sustainable fashion, what do we wear?
Food and the climate
Electronics
Children and chemicals
A toxin-free everyday life
Zero waste and plastic
I didn't think I would become this inspired, I expected heavy information but they managed to convey it in a simple way."
Arrangements
You can book one of our skilled lecturers, read more about them here. The session is arranged in a way that suits you the best. Our lectures are always based on the latest research, which makes them always up to date. Our digital and physical lectures usually last between 30 minutes and 1.5 hours. 
This is how our lectures are usually structured:
Why sustainable consumption is important – what does the research say?
How do I become a responsible consumer?
Concrete facts and advice
Time for questions

 Interactive model
You can also book a tailored workshop alongside a two week remote course of your own for you and your colleagues, where you will learn about:
Circular economy and consumption
How to become a circulent 
Sustainable food for those of you who work with food
We as individuals, employees and organizations act as consumers in one way or another, which is why our lectures suit all. 
A selection of who we have taught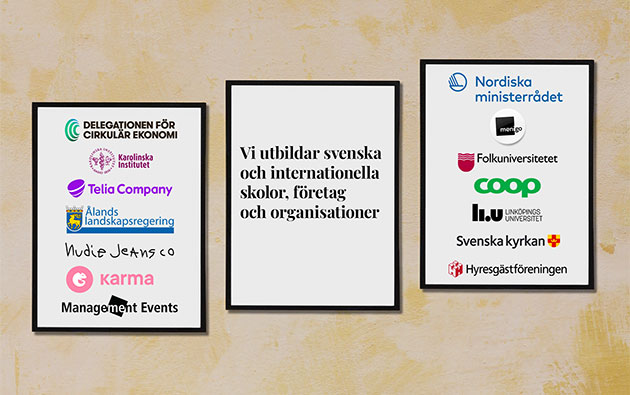 Book a lecture in sustainable consumption
Prices: A 1-hour lecture costs 15 000 SEK, 30 minutes is 10 000 SEK. We don't invoice with VAT, as we are a non-profit organization (we can enclose a tax certificate, so that no problems with the billing will occur). A workshop or an in-depth lecture costs between 50 000 and 75 000 SEK depending on the scope. Please read more about our company membership and what it includes. 
For 1 500 SEK an hour you can book us as consults with what you might need our help with, for example research or as a sounding board. 
You book us by contacting us, we look forward to teaching you as well! 
We are very satisfied with your work. We appreciated your flexibility and professionalism when you adapted the content to the audience."